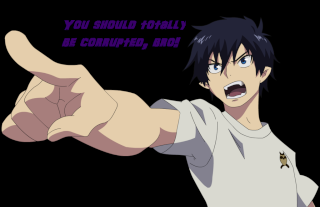 In some cases, not everyone is as lucky as other parts of humanity. Some have been killed. Others, missing. And some have corrupted DNA in parts of theirs bodies. This is called Stable Corruption.
Stable Corruption happens when you are harmed by a Corrupted in any shape or physical form and it's DNA was mixed with yours in a certain part of the body. Since of human's bodily functions, the Corrupted DNA only spreads to a certain amount of your body (Arms, legs, hands, eyes, etc.) . But there's a good part to it.
Whichever parts of your body is corrupted harnesses a corrupted power or ability. For Example, User 1's arm was bitten by a corrupted ice wolf. User 1 can now transform his arm into a giant wolf claw that can freeze things it touches. Another example? User 2's hips and below (down to the feet) were corrupted by a corrupted poisonous cobra that struck him with it's venom and fangs. User 2 can now have more endurance and speed along with venomous talons that can make it's victims less aware of their surroundings. You get it?
Your character can be in a stable corruption as well! So instead of having a mighty great sword, or a frost gauntlet, you can have an epic hand that can shoot fireballs!
Admin




Posts

: 25


Join date

: 2014-10-05


Location

: In your bedroom closet...

Character sheet
Character Information: 3




Similar topics
---
Permissions in this forum:
You
cannot
reply to topics in this forum